After months or research, testing, and practice, my 5+ hour video training Capture One Pro Essential Training is now available. Here's a taste of what's in store for you.
These movies are designed to show you the easiest ways to make the transition to Capture One. The techniques are straight-forward and uncomplicated. The focus is to get you up and running as quickly as possible, so you can be productive in your new photo management environment. This is a best practices approach.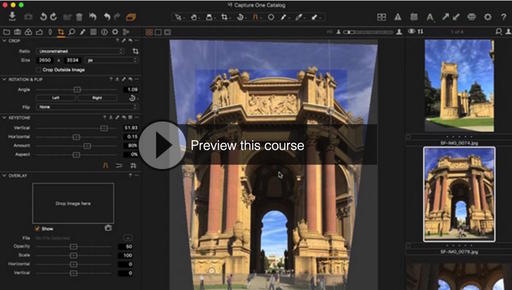 These tutorials will be particularly helpful to former Aperture users looking for a new home, and for unhappy Lightroom photographers who want better RAW decoding and improved performance. I myself made the transition from Aperture to Capture One, and I show you how you can too.
After working with these movies, you might be surprised at just how easy it was to learn this application. Take a look. I think you'll be happy you did.
More Capture One Pro Tips and Techniques
Improve your skills by watching Capture One Pro Essential Training now available on lynda.com. More than 5 hours of tips, tricks, and techniques. Plus many free movies using advanced techniques.
Thinking About Making the Transition from Aperture or Lightroom? - Download my free eBook titled, Rocky Nook's Guide to Moving to Capture One Pro. I show you the steps to create a test library, then build the foundation for a smooth transition to Capture One Pro.
Want to Comment on this Post?
You can share your thoughts at the TDS Facebook page, where I'll post this story for discussion.