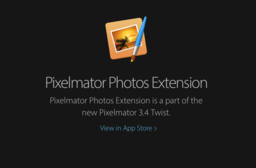 One of the goodies included with Pixelmator 3.4 Twist is the new Photos Editing Extension that includes some terrific creative tools.
You can download the full version of Pixelmator in the Mac App Store for $29.99. With it you get a wide variety of painting, drawing, and retouching tools that has made this app famous among Mac creatives.
But now, as part of that download, you also get the editing extension that adds Warp, Bump, Pinch, and Twirl to Photos for OS X. And just like all the editing extensions, the workflow is non-destructive.
You can watch an informative video that walks you through its features. Pixelmator is an excellent addition to the growing library of editing extensions available for Photos. And if you have version 3.4.2 of Pixelmator, the editing extension is already on your Mac.
Master Photos for OS X
(It's More Powerful than You Think)
For hands-on tutorials, be sure to take a look at Photos for OS X Essential Training on lynda.com. I cover everything you need to know to get the most from this surprisingly powerful image management application.
More Help and Insights on Photos for OS X
Don't forget about the Photos for OS X Special Feature Section on The Digital Story. It's a roundup of tutorials, videos, and articles focused on helping you master Apple's latest photo management software. You can also find it under Photography in the top nav bar.
Want to Comment on this Post?
You can share your thoughts at the TDS Facebook page, where I'll post this story for discussion.