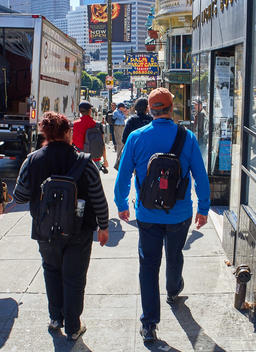 Participants in the TDS SF Street Photography Workshop logged many miles over the course of 3 days. On Friday alone, we worked from North Beach all the way up to Fort Point. Many of the shooters commented that they had walked 10 miles by the end of the day. Fortunately, we were using street-savvy Lowepro bags to protect and transport our gear.
Some of the photographers used the new Slingshot Edge 150 AW ($64), a sling that can hold a mirrorless body and a couple of lenses. Plus, a mini tablet will fit in a zippered front pocket. Interior areas and the adjustable divider system organized and protected their cameras and lenses, while smaller accessories were stored in the front. The Edge helped keep the load from getting too heavy, yet protected the gear our shooters needed.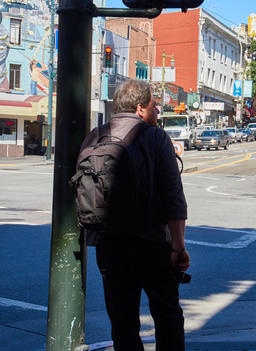 Participants who wanted to have a bit more kit used the larger Lowepro backpacks. These were particularly handy for larger DSLRs and their more bulky lenses.
I was relying on one of my favorite urban bags, the StreetLine SH 140 that I had fallen in love with during an assignment in Austin, Texas. I had my Olympus OM-D E-M5 Mark II and Contax G1 cameras in the StreetLine, along with an iPad and personal items for the day. I could work quickly out of the sling, and it never tired my shoulders, even over the course of climbing hills and exploring the streets of the city.
I think one of the keys to both our survival, and our ability to record hundreds of images over the course of three days, was having properly packed bags that allowed us to bring what we needed, but didn't add too much bulk as we navigated busy urban environments.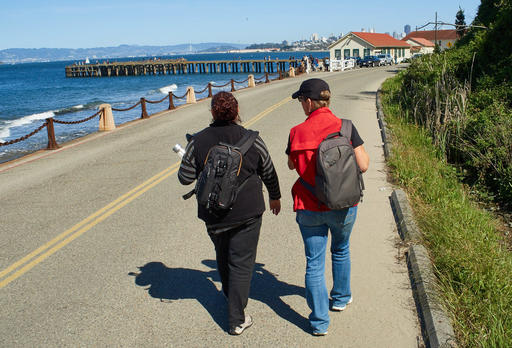 If you want to learn more about finding the right carrying solution for your adventures, jump over to lowepro.com for a look-see.
Want to Comment on this Post?
You can share your thoughts at the TDS Facebook page, where I'll post this story for discussion.