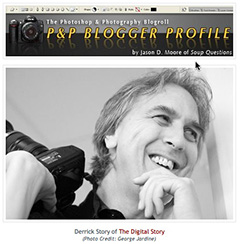 Jason Moore publishes regular interviews with photographer bloggers and had sent me a list of interesting questions for his P&P Blogger Profile. He asked standard questions such as "Why do you blog?" but he also wandered off the beaten path with inquires about inspiration, creativity, tools, and even personal stuff under the heading of "From Inside the Actors Studio."
My favorite exchange of the interview was, "What advice do you have for a novice creative professional/photographer?" with my answer being, "Get a photo buddy and/or become part of a photography community. If you have someone to go shooting with, and who will look critically at your photos, you will shoot more and improve faster. As for community, the nickname for The Digital Story is "your virtual camera club." It's a place for photographers to come together, learn new techniques, show off their pictures, and get feedback on their work. Being part of a community helps us improve as artists and craftsmen."
If you want to know a little more about the man behind the TDS blog, you might enjoy this interview of me. Read at your own risk.

Events! See the TDS Event Calendar for photography workshops, speaking engagements, and trade show appearances.
---
Technorati Tags: digital photography, The Digital Story