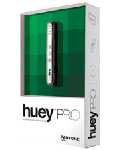 Mike Pasini recently reviewed the hueyPRO on Imaging-Resource.com. I was curious about the results from Mike's testing because I didn't have a very good experience with the original huey. (After several attempts with the original model, I felt my monitor wasn't calibrated as accurately as I would like, and I haven't used the device since.)
In his review, I don't feel like Pasini gives the new huey a resounding endorsement. He does say, "The Pantone hueyPRO makes it affordable and easy to calibrate and profile your monitor, a good solution for the amateur photographer with multiple monitors who may not have the additional cash to go with a higher-end solution like the ColorVision Spyder2 Pro." Well, the list price for the ColorVision Spyder2PRO is $249 US, and the list for the new hueyPRO is $129. I use the Spyder2PRO and like the results, so I guess it all boils down to the price difference between the two devices (and possibly their portability with the hueyPRO taking less room in the laptop bag).
However, I just checked on Amazon.com, and you can get the Spyder2PRO for $176. So you might want to read the Imaging-Resource review carefully to see if the hueyPRO is worth saving a few bucks.
Technorati Tags: digital photography, The Digital Story