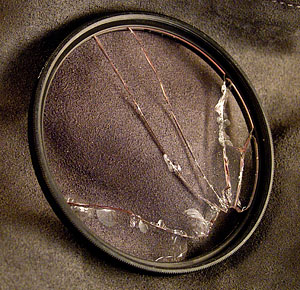 Are protection filters a way to help protect your investment, or simply a compromise to image quality? This week I tell the story of my Canon 70-200 f/4 L lens and its sudden introduction to hard pavement. The photo here is what's left of my Hoya HMC Sky 1A filter that I keep on the lens. Click on the photo to see how my zoom lens looks after the crash, and with a little dusting off with the Rocket Blaster. You can probably guess how I feel about protection filters at this moment. If you want to hear more, listen to this week's podcast.
Listen to the Podcast
You can also download the podcast here (24 minutes). Or better yet, subscribe to the podcast in iTunes.
Tips on How You Can Help Support This Podcast
In addition to our fabulous sponsors, we have affiliate agreements with Lynda.com, Amazon, and B&H Photo. If you plan on doing any shopping with these retailers, please enter their stores through the advertising boxes on this page. You'll find them in the right side columns. It doesn't cost you anything, but it can really help support this show.
Monthly Photo Assignment
Embrace is the Dec. 2009 Photo Assignment. You can read more about how to submit on our Member Participation page. Deadline for entry is Dec. 31, 2009.
More Ways to Participate
Want to share photos and talk with other members in our virtual camera club? Check out our Flickr Public Group. It's a blast!
---
-
---
Podcast Sponsors
SiteGrinder lets you take ownership of your websites. Effortlessly output pages right from Photoshop.
Red River Paper -- Try the $7.99 Sample Kit.
Add Magic to Your Slideshows -- FotoMagico presentations are so amazing that your audience will be asking how you did it.
---
Technorati Tags: digital photography, podcast, technique, Technology, The Digital Story, tips