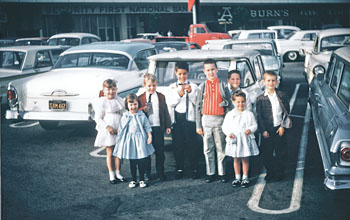 Now that we've been shooting with digital cameras for a while, we're starting to see interest in going back into our archives and digitizing old snapshots too. This process requires some of the same organization as we're already using to keep track of photos on our computer. Plus, there are a few other things to consider that are unique to scanning.
In my Macworld article, Four smart tips for managing scanned photos, I discuss how iPhoto can be an excellent tool for managing recently digitized images. One you add the scan to your library, you can correct the capture date, add location data, and make a few basic image edits too.
You'll also want to think about how you're going to archive this material. One thing that I like to do is organize the original photo in a binder with archival sleeves, and note the file name and location of the digitized version with it. That way, not only can you extend the life of the original print, you always know where the digitized copy is too.
Any of the photo management applications can work for managing scanned photos, Lightroom and Aperture are great examples. But everyone who has a Mac has iPhoto. And even if you're not using it to organize shots from your digital camera, it's a good tool for projects like this.
---
-
---